"I want MOMMY to get me dressed!"
This is how our day began. Reid, simply being three, screaming and throwing a fit because Brett had the gall to put on Reid's shirt.
Can you even believe he would do such a thing as to get his son dressed?!
This was more concerning than normal because Brett was getting Reid dressed to head to what one can only assume is the Tantrum Capital of the World. FAO Schwarz.
The drive in was marginally better. Then we walked into the world's greatest toy store and in spite of our ominous morning, we began the most Fun.Day.EVER.
Our adventures began on the 2nd floor - the Lionel train, the Lego section and most importantly (to the members of our family who have actually seen Big) the Big Piano.
Lego Toy Soldier in the Lego section
Colin & the Stormtrooper, made entirely of Legos
the Big piano
Colin gettin' down on the Big piano
Reid getting the hang of it
Quinn was NOT a fan haha. Though in the interest of full disclosure, she was extremely hungry. So after our dance-a-thon, I fed her while the boys went to meet IronMan (
big deal
- see
Colin's Halloween costume
as to why!).
hungry Quinn, forced onto the Big piano
Reid trying,..
...still trying
Now in days past, feeding Quinn was a tremendous undertaking. Perfectly back-timed (what time will we be there, wake her up to ensure she will be neither in transit nor ready to leave at the time of feeding), finding a very comfy seat for the power HOUR, extra clothes and burp cloths galore.
Instead, today I selected a small seat (not comfy) as it would only be for the next 15 minutes. Total. Because though we're still working through some of the issues with Quinn's surgeries - namely, gas management now that she has lost the ability to burp to expel gas - our lives are so much easier and her life is SO much better.
Thank you Drs. Prince and Dolgin, Quinn's fabulous surgical team
Every kid needs an awesome souvenir from their FAO Schwarz trip. And thanks to the parents of the beautiful Jacob Brooks and my college friend Marisa and her family, we selected the world's coolest toy - A WhatNot.
What's a WhatNot? A WhatNot is a Muppet. More precisely, a WhatNot is what all of the unnamed Muppets are called (the extras). Colin, Reid and Quinn (via Colin & Reid) got to custom-create their very own WhatNot puppets!! It was the best possible takeaway from our absolutely fantastic day.
the WhatNots, custom designed by Colin, Reid and Quinn (l to r)
waiting for our Muppets at the WhatNot Workshop

Following FAO Schwarz, we returned to The Plaza - where Quinn and I had Tea with some super cool women just last month (blog post pending the Press photos. Seriously.) - for the most pleasant lunch.
(For those of you without young children, a "pleasant" lunch is essentially Nirvana.)
Colin & Reid at the Shops at the Plaza

We went to The Food Hall at the Plaza, found an empty secluded corner spot in the mayhem where Quinn fell asleep in her stroller (this never happens), the boys munched down on Coney Island hotdogs while exclaiming over how much fun they'd had, and Brett and I were able to - simultaneously - enjoy a combo Lobster / Crab / Shrimp roll.
Following this most pleasant lunch, Brett got me a chai ( :)!! ) and he and the boys shared a frozen yogurt, while I ... wait for it ... fed Quinn. Again.
And then we got into the car!
We capped off the day by taking the Ed Koch Queensboro Bridge home, as a tribute to a larger than life mayor who sadly passed away on Friday, and doing Family Movie Night - James and the Giant Peach - after an early dinner.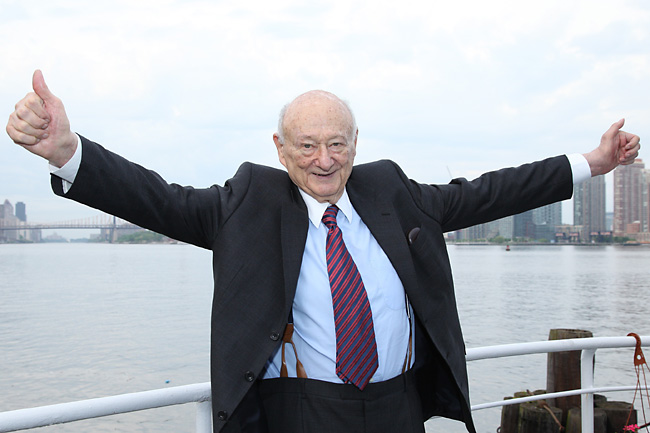 RIP Mr. Mayor
(photo credit: http://minnesota.publicradio.org)

Gas management issues be damned - I'm loving our new life :)
fuzzy photo but so worth adding - look at that grin!
that is a little girl that had a GREAT day :)
requisite family photo
Quinn's Ideawoman
: Michelle Mastrande
Quinn's Benefactors

: the family of Jacob Brooks, the Hedges family
Quinn's Wing(wo)men
: mommy, daddy, Colin & Reid