As we are long-suffering Mets fans, so are we longer suffering Jets fans. (We like the underdog, what can I say?). Every Sunday, September to December (and January, too if we're reeeeally lucky), we hope against hope and tune in to watch Gang Green.
It has become almost ritualistic at this point, as any football fan will tell you, and we were so excited to get to share this tradition with Quinn ... Live and In Person!
Uncle John had tickets to the game against the 49ers that he so graciously gave to us. While the prospect of the drive to Jersey and hanging with the Jets fan regulars with three little people was an intimidating proposition, New and Improved Brett and Eileen shunned all logic and proceeded to pack up tailgating supplies and all three kids amidst nap time and brave the GW to get to the stadium.
After all, Quinn had spawned a walk-off win for the Mets a mere 7 days prior. Surely her very presence would produce similar results for the Jets. Right?
Um yeah, not so much. Nada. That's what the Jets scored; thirty-four (that's 3-4) is what the Niners scored.
Ouch.
(We actually came to find out the next day that this constituted the third worst loss in Jets history. Hey - if you're going to lose, may as well make it memorable, right?)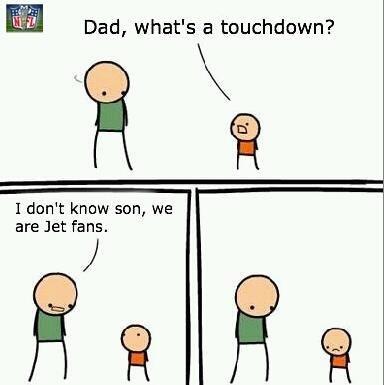 hilarious meme I saw the day after the game
(credit: twitter.com/JetsMemes)
Despite this most unfortunate outcome, we had a ton of fun! Quinn and the boys had their first tailgating experience (Linzer-style - complete with shrimp, quinoa salad and Oktoberfest for mommy and daddy. In our defense, we did have hot dogs too!). The boys were very impressed with cooking, eating and throwing a football in a parking lot and Quinn garnered a number of "Now that's dedication" comments.
horray!
sleepy Quinn, covered with daddy's Santana Moss jersey
The seats were awesome and this was actually my first game at the new stadium. What an improvement!
Now if only we could get MetLife to design the team...